You are here
Celebrating neurodiversity
22 April, 2022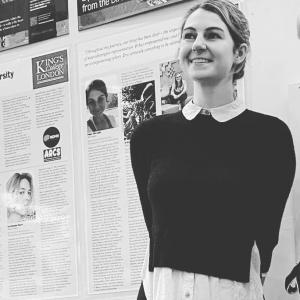 We are delighted that one of our team, Poppy Ellis Logan, was chosen as one of the inspirational women in the display for King's College London's Neurodiversity Celebration Week 2022. 
Poppy is a PhD student in the HPRU. Her PhD focusses on the impact of widespread power cuts. Poppy describes her PhD so far as 'lots of explaining that disability and vulnerability are not the same, and that neither are static' and is proud to be leading the way on working with disabled communities to ask people what their needs are, instead of taking a one-size-fits-all approach. She hopes that her research will lead to more inclusive and universally accessible emergency planning and response in the future. Poppy's route to her PhD has been unpredictable; as a teenager she originally planned to go to music college. Her path through higher education has been difficult, but her undergraduate dissertation on the experiences of neurodivergent students was a life-changing moment that led her to discover that she was not alone – and inspired her later trajectory. Over the following years, Poppy founded award-winning campaign #AttentionUK to raise the profile of adult ADHD amongst healthcare providers, universities and policymakers; was listed among the Top 50 Most Influential Neurodivergent Women of 2019 by Women Beyond the Box; and was recruited onto advisory groups for Mental Health Europe, UK Adult ADHD Network, ADHD Europe, the Centre for Access to Football in Europe, the NICE Guidelines on ADHD, and others. Her work on supporting student mental health has been published by the Royal College of Psychiatrists, and she has written blogs for the Mental Elf and King's Sustainability. She is still, however, a
musician at heart, and plays bassoon in King's Symphony Orchestra and various theatre productions.