You are here
MSc Module Given Award for Innovation in Teaching
17 June, 2016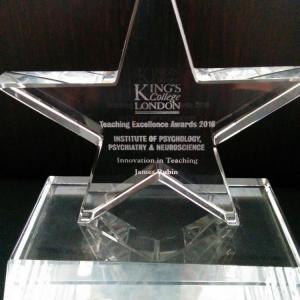 An MSc module organised through the HPRU has just been given an award for innovation at King's College London's annual celebration of Excellence in Teaching.
The module on the psychology of disaster response is led by Dr James Rubin at King's College London and sits within the MSc in Mental Health Studies. It covers topics such as the prevention of post traumatic stress disorder, provision of psychological first aid, management of mass psychogenic illness, crisis communication, and rapid behaviour change. The course benefits from input from experts from across the HPRU and generates consistently high feedback from our students: "The material learnt and teaching was fantastic." 
More details about the MSc in Mental Health Studies are available here: http://www.kcl.ac.uk/study/postgraduate/taught-courses/mental-health-stu...